EPOXY VINYL FLAKED GARAGE FLOOR COATING IN DFW
Trustworthy, reliable garage floor coatings serving the North Texas & surrounding areas
Our epoxy flake coating gives you numerous color combinations to choose from. Making your garage, man cave or any floor, one of a kind is easy with this process. Epoxy vinyl flake is one of the most popular options for your garage floor, offering an attractive and tough flooring option. The flakes also give you some natural slip resistance. Not only does this product make a great garage floor coating but also a great coating for your patio or any interior floor. Any oil, grease, gas or any other contaminant that gets on the coating is easily wiped off. Even if your concrete is in rough shape our garage floor coating will give your floor a fresh look on life.
You can also add a border using two different flake blends, as seen below!
There are options when it comes to the epoxy vinyl flaked floor. You can go with the partial flake or the full flake, with the full flake being the most popular. The full flake comes with two options as well and that is the size of flake, in either 1/4″ or 1/16″. The partial flake can come in either of the two sizes but looks the best with the 1/4″ sized flakes.
PRODUCTS USED (depending on my customers needs):
Epoxy
Polyaspartic
Polysiloxane
Polyurethane
MMA
EPOXY VINYL FLAKE IS A GREAT FLOOR FOR YOUR
Garage
Patio
Balcony
Sidewalk
​Driveway
​Any interior or exterior concrete surface
EPOXY VINYL FLAKE COATING OFFERS:
Reduced maintenance
Slip resistance to your floor
Pattern options
Value to your investment
A great look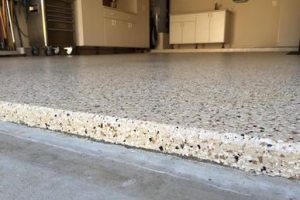 Give me a call at 469-939-2826 or fill out our form here!