EPOXY SOLID COLOR FLOOR COATINGS
Versatile Coatings solid color epoxy floor coatings will give you many options from a smooth surface which is easy to clean to a slip resistant coating that if you fall on it you're going to loose some skin, with a couple of mid range options to choose from as well. We have several colors to choose from depending on your look. This is a great alternative if you are looking for a budget friendly flooring option.
With our solid color epoxy we do have the option of adding our moisture mitigating epoxy primer in those cases where hydrostatic pressure can be a problem. Hydrostatic pressure is where moisture vapor is transferring through the concrete which if in excess of 3lbs per sq/inch will cause most coatings to fail.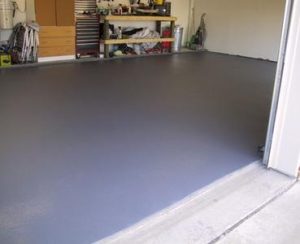 PRODUCTS USED
(depending on my customers needs)

:
epoxy
polyaspartic
polysiloxane
polyurethane
MMA
SOLID COLOR EPOXY IS A GREAT FLOOR FOR YOUR:
garage
patio
balconies
any interior or exterior concrete surface
SOLID COLOR EPOXY OFFERS:
reduced maintenance
slip resistant finishes
ease of cleaning
light reflection to brighten up a room
value to your investment
Give me a call 469-939-2826 for any questions or fill out our form here!