CONCRETE FLOOR COOL STAINS
Versatile Coatings concrete cool stain has several colors to choose from but it's biggest advantage is the fact that it can reduce your concrete temperature up to 50 deg's! If you want to be green, this is a good starting point. The heat absorptions in concrete is what contributes to the "urban heat island effect" causing hotter air temperatures in urban locations than you would get in surrounding rural areas.
A premium quality SINGLE COMPONENT water-based, polymer-modified concrete color stain used to reduce the surface temperature of existing concrete. The stain uses revolutionary infrared reflective technology to increase the solar reflectivity of concrete surfaces exposed to sunlight, reducing the surface temperature by up to 50° F! The stain provides a completely opaque, breathable and natural-looking finish. Perfect for use on concrete pool decks and municipal projects. This is also great if you have young kids to love to play outside with no shoes! They are able to walk on it without the chance of burning their little feet!
CONCRETE COOL STAIN IS GREAT FOR:
sidewalks
driveways
entrance ways
any exterior concrete you want to keep cooler
CONCRETE COOL STAINS OFFER:
the ability to keep your concrete up to 50 deg's cooler
many colors to choose from
seals and protects your concrete
the ability to walk on your concrete in the summer with bare feet
adds value to your investment
Here is what one of my customers had to say about the patio surface after applying my concrete cool stain.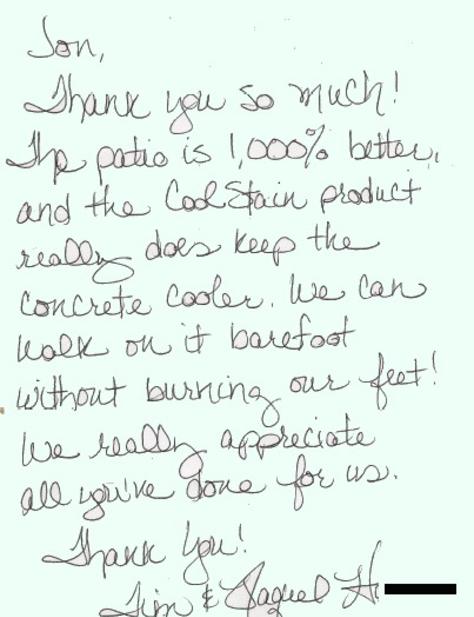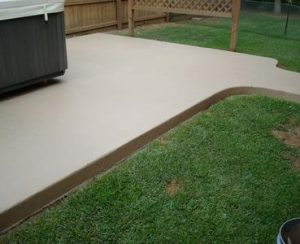 Give me a call at 469-939-2826 or fill out our form here!